Customer Insights
Knowledge Sharing
Bloomfire Q&A: Priscilla McKinney on Empathy, Knowledge Management, and Context in Marketing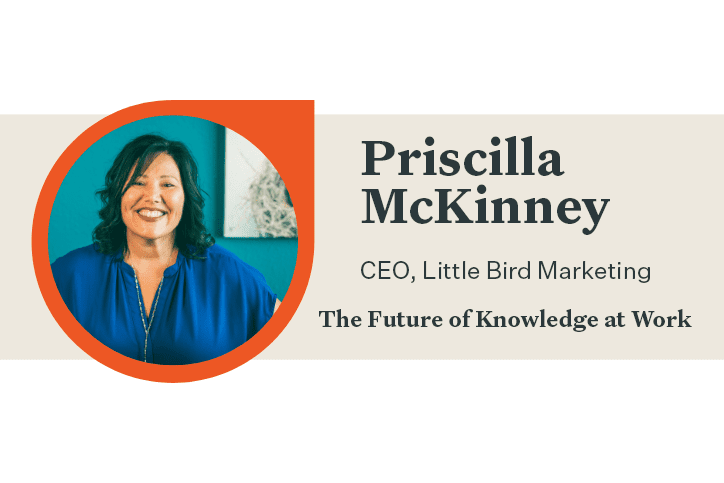 Marketers—whether working in-house or at an agency—often have to collaborate across teams and departments, juggling dozens (or hundreds) of moving pieces to execute campaigns that connect with customers. In this entry of our Future of Knowledge at Work series, Priscilla McKinney discusses the role she sees knowledge management playing in this collaborative process—and how providing the right context leads to more empathetic marketing.
In addition to being the CEO of boutique marketing agency Little Bird Marketing, Priscilla is a prolific keynote speaker, blogger, podcast host, and diversity champion. She's been featured on numerous podcasts, is the President of American Advertising Federation Heartland, and has received numerous design, entrepreneurship, and industry awards.
Check out what she had to say in our interview below.
Tell us a little about yourself.
I am the fifth of five girls. I grew up in what can best be described as a traveling, Christian Von Trapp family with…wait for it…matching dresses. I can neither confirm nor deny that there was a lot of puppetry and flannelgraph in my childhood. Neither of my parents had a college degree, but they were avid readers, loved history, spoke two languages and showed us all of the world they were able to. Because of this I have a deep appreciation for two things—the cultures and beliefs of others and the importance of community and belonging. I think this explains a lot, if not everything about me.
You've had a really varied career, from working in the financial services industry as a fraud analyst and personal banker to running your own business for 16+ years. What led you to pursue a career in marketing and to start your own companies?
I put myself through college getting a degree in Cultural Anthropology by working in the banking industry. My celebrity claim to fame is that I was a teller with Will Ferrell at Wells Fargo in California. I'm a hard worker and this was the work that paid when I was younger before I could really carve out the career I wanted.
I eventually got into credit card processing and opened my own business which I still own and run today. It's called Relay for Business, and I set businesses up with credit card processing merchant accounts. In talking with business owners every day, I started realizing how good I was at giving marketing advice. When I got the opportunity to buy leasehold improvements from a small marketing company, I went for it. 
In 2011, an F5 tornado hit my hometown of Joplin and we lost about 35% of our city and many lives in 22 minutes. Three weeks later, my creative studio burned to the ground. Instead of quitting, I rebranded and doubled down on my vision, and that is how Little Bird Marketing was born. I wanted to be a boutique agency for premiere brands—ones who were interested in cultivating an intimacy with their clients. When you have good news to share, you start with, "…a little birdy told me…" This means you not only have good news, but that you're in the know. I love both of those things together. It means there is a relationship with the brand and that is what my ideal client is going for.
What knowledge do you rely on most in your role as CEO of Little Bird Marketing?
Reading a room is my superpower. I trust my knowledge of body language, proximity, gestures, voice inflection, eye contact, and more to understand what is going on in any given situation. I think understanding people and meeting them where they are is the basis of any great conversation, any great client relationship, and is the only way to truly collaborate.
In the end, marketing is nothing but sustained connection and collaboration, so if you can't do this from the beginning with a potential client, it will not happen later once they are paying you. I read the room and then clear the smoke by sharing, nicely, what I'm seeing and what may be an issue. I don't let things go unnoticed or unaddressed. It doesn't mean you call everything out in a group setting, but it has to be called out at some point in some way. I rely on this skill and this way of approaching interactions every day. 
Based on your experience leading a full-service agency, what do you think are the biggest knowledge management challenges for marketers (and how do you solve them)?
I think some of the management challenges that face marketers is how to constantly see the skills and the services that they offer from the perspective of the buyer, meaning the client. You can't manage a team successfully by only being focused on your work. You have to see your work through the lens of how it helps clients move through their goals and even exceed their goals in the end.
For example, a client might want to know a due date for a project, and we might get fixated on the due date and keep working and working toward it. But what's needed is to back up and ask the client, why do they need that due date? Getting a little bit more information might help us truly respond in a different way.
We have to manage not only the task at hand, but the bigger picture of the task. And in that way, we respect our client by being curious and asking more and understanding. Managing creatives requires maintaining that balance between myopic tasks within a project and the big picture.
Thoughts on how new technologies will impact the ways marketers: a.) learn more about their target audiences and b.) collaborate and share knowledge across their teams and organizations?
New technologies are always arising. And I think the first thing in marketing that people talk about is the ubiquity of social media platforms. I try and remind people that the telegram was social media technology, so this is nothing new. I think this is where my degree in cultural anthropology shines: I look at this through the lens that humans are social, humans interact with brands, and we have to craft important messages for those humans. Regardless of the technology, we have to understand and empathize with our target audiences.
There are a lot of great technologies which segment our audience and help us learn what they need and want. I serve the market research industry, and I'm very interested in the data and science of it all. I'm interested in how technologies can give us that information more accurately and quickly. But humans still have to use those technologies properly to maximize data and scale in meaningful ways. We have to focus on the human behind the technology.
One other positive aspect of technology is the beauty of how quickly we can work, collaborate, and share knowledge across teams and organizations. At Little Bird Marketing, we transparently collaborate and share knowledge, not only across our own team, but in real time to every client. We spent years developing S O A R: a proprietary system that helps organize and make sense of the technology. Our marketing is first strategic, then organized, then held accountable, and finally, delivers repeatable results. In my opinion, without that kind of structure or concept, technology is just making things run faster without importing the meaning.
What best practices would you recommend for capturing and sharing the knowledge of people across an organization?
I think that often when people share knowledge across organizations, they are getting snippets of information and context is getting lost. The best practice I firmly believe in when sharing work is to set that request within a framework of context. The foundation of our marketing system requires persona development. Before we write, create, or think of a marketing action, we must be able to quickly place that task in context with the intended audience—the most ideal buyer for the client's products or services.
Really great marketing delivers the right message to the right person at the right time, and that requires persona development, coupled with an understanding of the buyer's journey. When you share knowledge across an organization, it needs to include this work. You have to know the context of your request. Otherwise, the resulting work is very fractured and ultimately, not effective. Thousands of separate marketing actions have to happen within a campaign or project. Maintaining context in communication as you get those tasks done keeps the team from getting so myopic and results in quicker communication and better work.
Can you tell us a little about your podcast, Ponderings from the Perch, and how you got started with it?
Ponderings from the Perch came from simply a need for me to talk through what I was thinking and share my perspective. I did not set out to monetize my podcast, and I think that also accounts for the organic growth of my audience. I simply want to talk about interesting subject matter—from anthropology to languages, marketing messages to data science, neuroscience to creativity. I don't have rules except to NEVER BE BORING. 
I make no bones about the fact I'm simply trying to be overtly helpful to my audience. I ask what they want to hear, I take requests and tackle subjects people are afraid to admit they don't understand. I often say that I like to pull the proverbial curtain back and let people see how marketing works. I also have amazing interviews with professionals who are willing to be humble and helpful.
I enjoy sharing my perspective, but over time it has morphed into me inviting more and more people on my show. And that really turned out to be the part I enjoy the most. In my heart of hearts, I'm a connector, and I love to hear other people's perspectives. I really want to know what makes people tick and what is interesting to them. And I like to catch people a little bit off guard and let them really be themselves and share with my little piece of the world.
What's one piece of advice you'd like to offer to businesses that are currently rethinking their marketing strategies as a result of the coronavirus pandemic and economic downturn?
I would have to say you do not have to go very far to find an economist who would tell you to double down on marketing in a downturn. This is a huge opportunity to focus on your core competency and NOT let up on the gas. Big success comes for those who go further and deeper into their market.
If I could give one more piece of advice, it is that in crisis, you have to stay in tune and empathize with your existing clients. Just like you, they are going through a very tough time, and the more human you can make those conversations, the better your business will be in the long-term. It's also just a way to be an excellent human.
So tangibly, that means calling your clients a little more often. It also means calling your clients as an owner to owner and giving them a chance to speak their minds. Sometimes it's very hard as a leader during an economic downturn, when everyone is looking to you and you don't necessarily have all the answers. I think extending some empathy and kindness by letting the owners talk with you privately and giving them the opportunity to tell you how you really can help them is a good way to be kind.
Thanks for sharing your insights and perspective with us, Priscilla!
---
Interested in seeing more of our Future of Knowledge at Work interviews with marketing and market research leaders? Check out these entries:
Sue Duris on Creating an Org-Wide CX Vision, Essential Leadership Skills, and More
Roben Allong on Cultural Insights and a Recalibration in Market Research
Chris Martin on Creatively Sharing Insights, Encouraging Engagement with Research, and More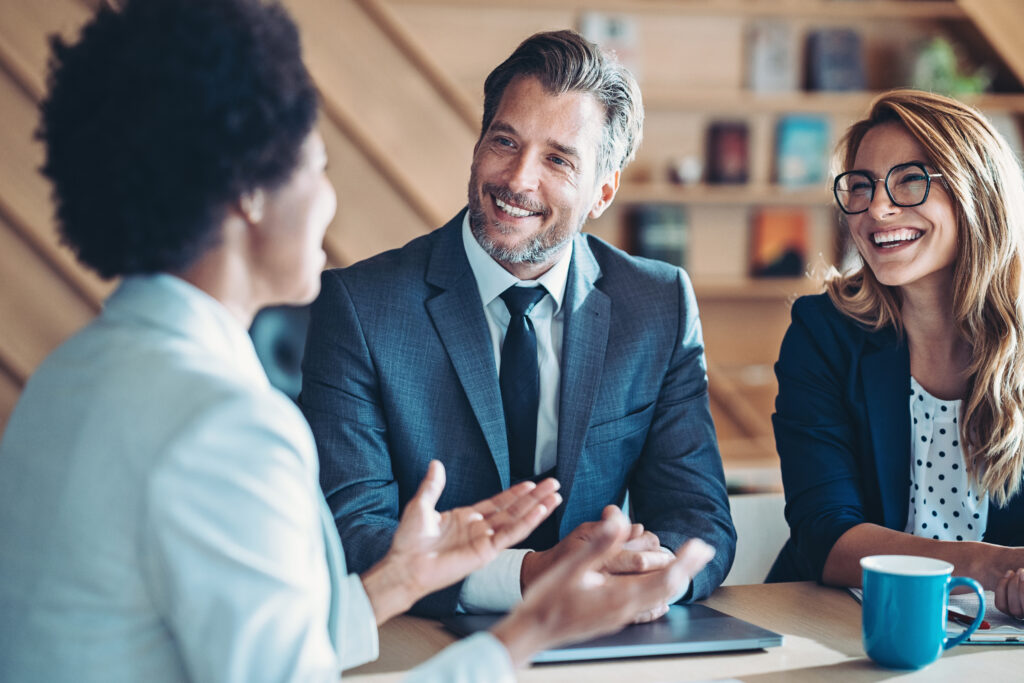 Blog Change Management Knowledge Sharing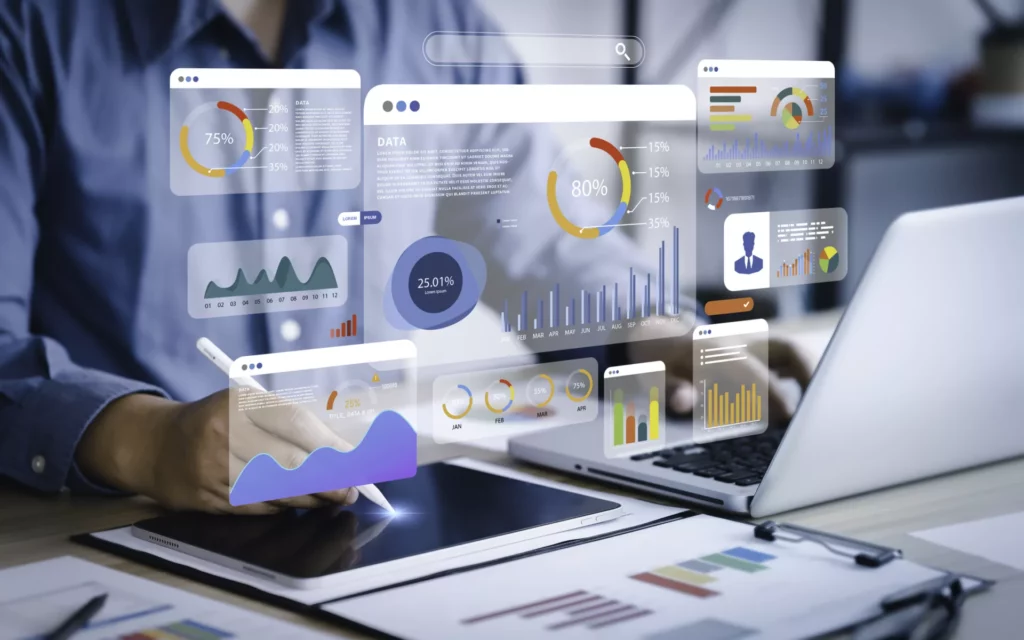 Blog Collaboration Knowledge Sharing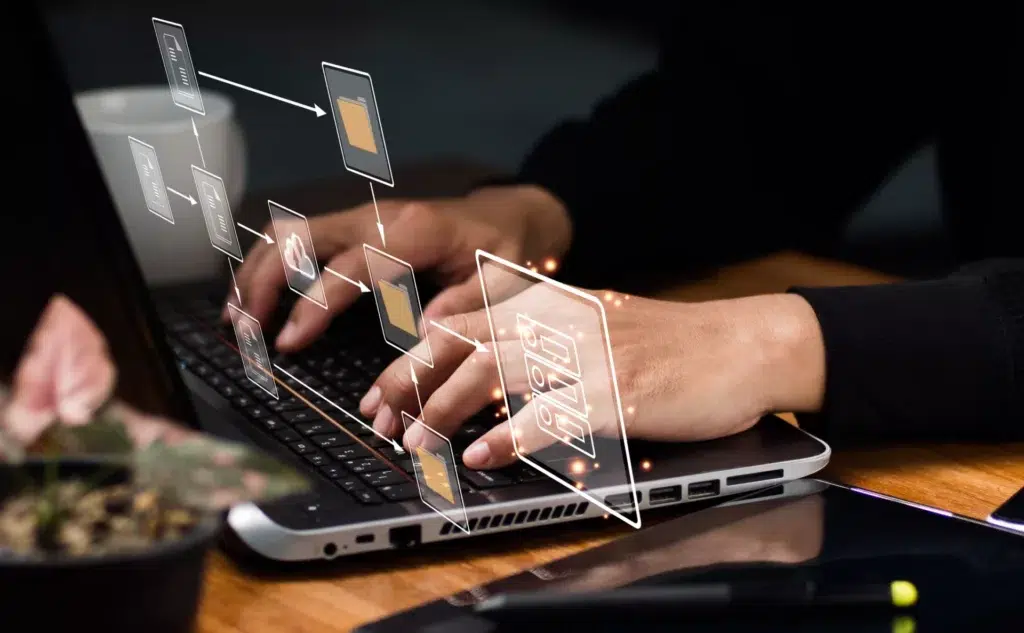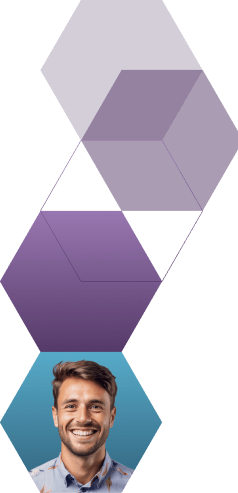 Start working smarter with Bloomfire
See how Bloomfire helps companies find information, create insights, and maximize value of their most important knowledge.
Request a Demo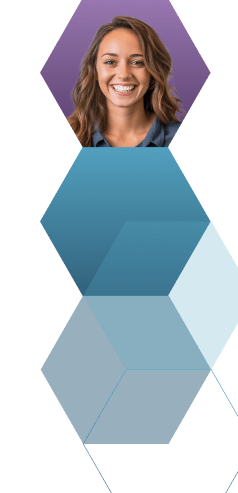 Take a self guided Tour
See Bloomfire in action across several potential configurations. Imagine the potential of your team when they stop searching and start finding critical knowledge.
Take a Test Drive